Basic Attention Token Price Analysis Chart
SOL

TRX

BTC

KNC

SOLVE

STRAX

ENJ

GLM

CVC

AAVE

LYXE

NXT

ZRX

XEM

PAC

XFA

PAY

FESS

ADA

XRP

BDCC

COMP

ICP

C2C

DGB

MATIC

CFG

BNTX

VET

CLOAK

BTCHG

POLY

USDC

SHIB

THETA

GRT

BTS

DIVI

BAT

CL

XLM

DODO

XLA

MKR

1INCH

REN

FTT

FORTH

ETL

REP

AVAX

SXP

OCEAN

EWT

ALGO

RVN

OMG

UNI

WIN

DASH

CHZ

IOST

SRM

KAVA

FUNJO

XDC

LSK

LINK

FCT

QTUM

VYNC

LTC

DOGE

XMR

DOT

HYBN

MANA

STEEM

BCH

LPNT

MAHA

BAL

FIL

VBIT

M3C

PIVX

BDX

BTT

HYDRO

FKD

DCN

VGX

SNX

TOMO

XTZ

AOG

ATOM

SC

LEO

ETH

ZIL

BAND

ETC

BSV

USDT

SUSHI

ICX

RUNE

ARK

UMA

BUC

BTRN

DCR

NEO

EOS

OM

TCC

ONE

PUNDIX

KOEL

KSM

BCD

MIOTA

RLC

YFI

WAVES

PAXG

BPC

ZEC
Current Price of 1 BAT = ₹
600,000 INR
For ₹
100 INR

you will get =

0.00045 BAT
Daily

Basic Attention Token Price in INR
| Time | Price in INR | Change in % |
| --- | --- | --- |
| 26-10-2021 | ₹ 56.12 | +1.43% |
| Time | Price in INR | Change in % |
| --- | --- | --- |
| 26-10-2021 | ₹ 55.02 | +1.07% |
| Time | Price in INR | Change in % |
| --- | --- | --- |
| 10-2021 | ₹ 55.45 | -6.32% |
Basic Attention Token Overview
What is Basic Attention Token (BAT) ?
The Basic Attention token is a token used to obtain a variety of advertising and attention-based services on the Brave platform. The utility of the token is based on user attention, which simply means a person's focused mental engagement.It improves the efficiency of digital advertising by creating a new token that can be exchanged between publishers, advertisers, and users. It all happens on the Ethereum blockchain. Basic Attention Token is founded by Brendan Eich- the creator of JavaScript and co-founder of Mozilla and Firefox. Basic Attention Token ICO was launched in March' 2017 and the project spell-bounding raised a capital of $35 million in just 30 seconds of the pre-sale period.
Basic Attention Token Price Prediction 2021
Basic Attention Token is an interesting token. It is designed to transform digital advertising systems by obtaining a variety of advertising and attention based services on Brave Platform. It is ventured by the BAT. The utility of the token is based on user attention means a person's focused mental engagement. It improves the efficiency of digital advertising by creating a new token that can be exchanged between publishers, advertisers, and users. It all happens on the Ethereum blockchain.It came into existence in June 2017.It was founded by Web Pioneer Brendan Eich.
BAT price in INR in 2017
In September, 2017, The Basic Attention Token price in India was INR 18.46 and it kept fluctuating and finally reached at BAT to INR 15.84 on 30th September,2017. After the crash period, The BAT Price in India on 1st December, 2017 was INR 11.54 and it started moving towards market trend and closed the Year 2017 with Price of BAT in INR 28.19
Basic Attention Token price in INR in 2018
On 1st January 2018,The BAT price in INR was 31.25 and it followed the market trend and in the mid.of Jan,2018 it reached at BAT to INR 57.01 the highest value ever in the history of BAT. But after that it started moving downwards direction and closed the month Jan,2018 with BAT to INR 32.41. The Declaration by Govt. regarding not accepting cryptocurrency as legal tender affected the market. The price fluctuated. On 1st Feb,2018 BAT to INR was 32.89 and it started declining and closed the month with BAT to INR 23.74. After plummeting again it saw a bullish trend a very short span from 13th April to 17th May, 2019 reaching maximum INR value at 32.58 on 3rd May after which it saw a mixed rise/fall in its price but kept plummeting and got closed at INR 9.52 on 31st December, 2019.
Basic Attention Token price in INR in 2019
In the beginning, Basic Attention Token price in Inr was 8.80 and Basic Attention Token price reached maximum of 29.28 on 24th April, 2019 and by the end of the year on 31st December 2019 it slid back to INR 13.44.
Basic Attention Token price in INR in 2020
on 1st January 2020, Litecoin price started with INR 12.90 and has reached Highest by far on 15th February 2020 at INR 22.17 with sliding back to INR 8.21 on 13th March and recovering at INR 17.00 as on 1st June
Basic Attention Token price in INR in 2021
Basic Attention Token price in India today is ₹20.39 INR with a 24-hour trading volume of ₹22,916,495,924. BAT price is up 13.9% in the last 24 hours. It has a circulating supply of 1.5 Billion BAT coins and a max supply of 1.5 Billion. BuyUcoin cryptocurrency Exchange in India is the current most active market trading it.
Basic Attention Token Features
Brave browser and a BAT wallet integrated
The system consists of two components: the already deployed Brave browser and a BAT wallet integrated with the Brave browser.
ERC20 compatible
BAT IS an ERC20 compatible token.
Brave ledger system
The transactions in BAT take place through the Brave ledger system. An open source Zero Knowledge Proof system protecting individual user anonymity from advertisers, publishers and third parties.
machine learning
In-device machine learning matches truly relevant ads to content.
based on user attention
BAT's value is based on user attention that will be measured according to certain scoring algorithms; some of them are already tested, others will be developed later in cooperation with publishers and advertisers.
fully distributed micropayment system
Brave plans to move to a fully distributed micropayment system using state channels in the future development stages.
Buy and sell Basic Attention Token at the best price in INR
Whether you want to buy Basic Attention Token in India or you want to sell Basic Attention Token in India. The most secure and safest platform in India is BuyUCoin. It is the best Indian Exchange which offers BAT to INR trading pairs. It is India's most secure, dedicated, User friendly and trusted digital exchange. At BuyUCoin you can not only buy/ sell BAT in INR but also more than 30 cryptocurrencies and It follows payment industry best practices with strict KYC-AML policies because of these features BuyUCoin become a leader in Indian cryptocurrency Market of cryptocurrency exchanges.
SOL

TRX

BTC

KNC

SOLVE

STRAX

ENJ

GLM

CVC

AAVE

LYXE

NXT

ZRX

XEM

PAC

XFA

PAY

FESS

ADA

XRP

BDCC

COMP

ICP

C2C

DGB

MATIC

CFG

BNTX

VET

CLOAK

BTCHG

POLY

USDC

SHIB

THETA

GRT

BTS

DIVI

BAT

CL

XLM

DODO

XLA

MKR

1INCH

REN

FTT

FORTH

ETL

REP

AVAX

SXP

OCEAN

EWT

ALGO

RVN

OMG

UNI

WIN

DASH

CHZ

IOST

SRM

KAVA

FUNJO

XDC

LSK

LINK

FCT

QTUM

VYNC

LTC

DOGE

XMR

DOT

HYBN

MANA

STEEM

BCH

LPNT

MAHA

BAL

FIL

VBIT

M3C

PIVX

BDX

BTT

HYDRO

FKD

DCN

VGX

SNX

TOMO

XTZ

AOG

ATOM

SC

LEO

ETH

ZIL

BAND

ETC

BSV

USDT

SUSHI

ICX

RUNE

ARK

UMA

BUC

BTRN

DCR

NEO

EOS

OM

TCC

ONE

PUNDIX

KOEL

KSM

BCD

MIOTA

RLC

YFI

WAVES

PAXG

BPC

ZEC
Current Price of 1 BAT = ₹
600,000 INR
For ₹
100 INR

you will get =

0.00045 BAT
Trade Anywhere. Anytime
with All New BuyUcoin App & redeem code
BUYUCOINFREEBTC to get Free BTC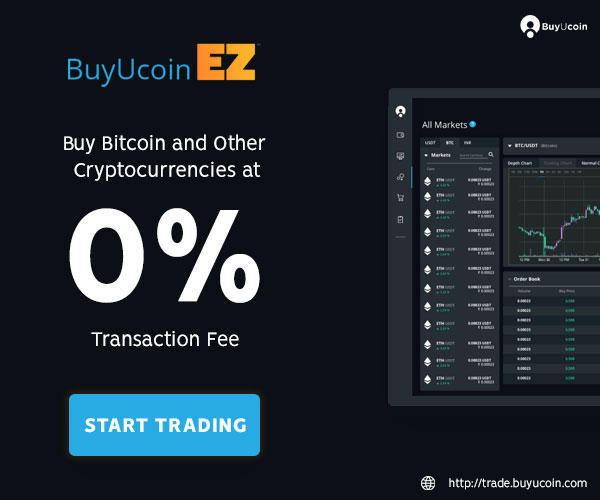 Blog post on basic attention token